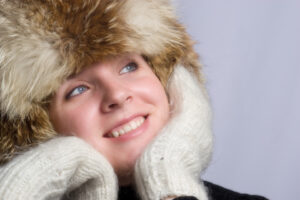 I love hearing about women who ignore the nay-sayers and stride forward with determination to pursue their dream!
I just read about Katie Mowat who founded GranniesInc.com, which is an online bespoke knitwear company. They knit to order, which means that customers can create and order something original and different for themselves or as a gift, and even have a hand in the design themselves.
This tailored service doesn't come cheap, but people are willing to pay more for the originality and hand-made aspect of the fashion that is provided.
This is exactly the kind of thinking that I want every knitter to embrace – to realise that when it is marketed in the right way, customers are more than willing to pay well for your talents and creations!
Grannies Inc is UK based and currently has 12 women who regularly knit for them. If you are looking to make some money from your knitting, then working for a company like this can be a great way to add some extra income using your knitting skills.
There are other similar businesses around the world doing bespoke knitting – another example is netgranny.ch. This Swiss-based business is a collective of 15 grandmothers who knit socks on demand and sell them online. Customers can choose their favourite granny to knit the socks for them – they pick the colour and size and after 2-3 weeks they are sent their pair of dream socks.
These businesses are a great example of how smart marketing and good positioning can mean the difference between a great profitable business and a hobby-job that actually loses money. They have also used the internet to attract a worldwide market, so they are able to attract people who are happy to pay more for such a personalised service.
I find these stories very inspirational and also very motivating, because they show how knitters from anywhere in the world, at any age, really can make money from knitting!
To learn more about how you can increase the value of your knitted items, and create a real business from your knitting, make sure you check out my book which gives a step-by-step guide and 6 simple strategies that you can follow. Go to www.knittingforprofit.com to find out more.