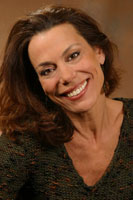 I'm very sad to say that today's post brings news of the passing of Melissa Matthay, who was an incredibly creative and talented knitter and designer.
I had the good fortune to meet Melissa online, when I interviewed her for my book. She has a wonderful story and was a prominent knitwear designer, owner of the Knitting Tree in Madison, Wisconsin, and the original founder of the Yarn Co. in Manhattan.
I love her colourful and creative designs – you can see some of them at www.bymelissa.net. She was a wonderful example of how knitting can become not just a hobby, but a business and a passion.
There is an obituary of Melissa and a Guest Book in the New York Times online death notices page. Her family welcome any thoughts, stories, and remembrances you would care to share. Here's the link:
http://www.legacy.com/obituaries/nytimes/obituary.aspx?n=melissa-matthay&pid=145043549
Her family send thanks to everyone who helped to enrich Melissa's life and career, and helped establish her legacy of fashion and friendship.
My sincere condolences to her family, who ask that if you know of others in the knitting community who would want to know of this sad news to please forward this information along.