At Last! A Knitting Affiliate Program That Helps You Earn Money From Your Crochet or Knitting Blog
Here's The Fastest, Easiest Way To Make Money From Your Knitting Website – Become A Knitting For Profit Affiliate
– It's 100% Free To Set Up!
You can easily earn money by recommending the most comprehensive and trusted step-by-step guide for women wanting to earn money from knitting or crochet.
Read this page to discover how you can earn regular monthly commission checks virtually on autopilot…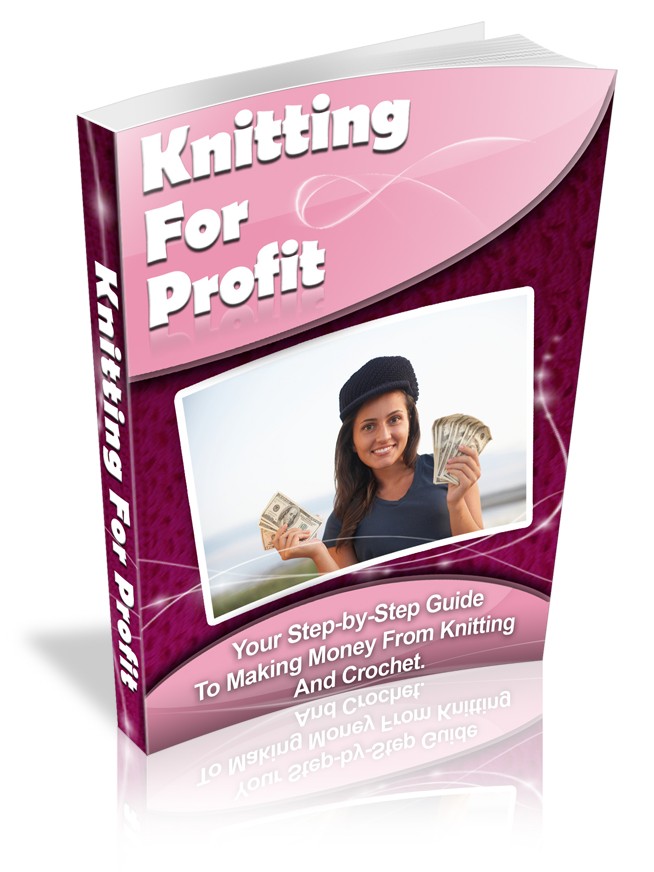 If you have a knitting blog or crochet website or if you use pay-per-click advertising, or even if you are completely new to internet marketing, you can easily promote the Knitting For Profit book and start earning money instantly as a knitting affiliate.
The best thing about being a knitting affiliate is that all you have to do is send people to our website. Many people all over the world are earning bonus income off their knitting websites just by being affiliates and all without the hassle of developing a product, holding stock, taking care of shipping or customer service issues.
Who The Knitting Affiliate Program May Be Suitable For…
Do you have a knitting website, a knitting blog or online work at home mom email list/newsletter or social media presence? Would your subscribers, friends or web site visitors be interested in learning how to make money from their knitting or crochet passion – working from home and the hours they want?
Are you looking for trusted and high quality knitting products to promote such as knitting books?
Would you love to earn an automatic stream of income off your knitting blog or crochet website?
Or, are you an online marketer thinking of starting a knitting website or a pay per click campaign, but you need a high quality knitting product to promote – one with a proven track record and reputation for integrity?
You love reading knitting blogs or maybe you are active in online knitting forums and work at home mom communities such as face book, and are looking for a way to make some extra cash
If you answered yes to ANY of these questions, then why not start promoting one of the most comprehensive and trusted business knitting books available online today and begin enjoying an extra stream of income from your knitting website when you join the Knitting For Profit affiliate program.
How Does The Knitting For Profit Affiliate Program Work?
As one of our knitting affiliates, each time you generate a sale of one of our knitting books, we pay you a commission. All you have to do is drive traffic to our website.
You start by signing up and creating a free affiliate account with Clickbank. (See details here.). You will then get a unique "referral" hop link that you use when directing traffic to our site. When someone clicks on your referral link, and visits our site and buys knitting for profit, we pay you a commission for that sale – it all happens on autopilot and its completely FREE to join and set up!
Here's the best part of all:
You earn a 50% commission on every customer you refer or eBook sale you make through your affiliate link. That's right – you get half the profit!
The money is automatically deposited into your Clickbank account, and every 2 weeks you'll receive a pay check in the mail for whatever amount of money you've earned during those 2 weeks.
You don't have to worry about sending out the order, customer questions or technical issues, we handle everything! Your only job is to drive targeted traffic to our website. Once you make a sale you have no further responsibility to the customer.
6 Reasons Why You Should Join Our Knitting Affiliate Program:
#1: Its FREE to join!
Being part of our Knitting for profit affiliate program is not only 100% free to set up but its quick and easy as well! So you have nothing to lose, it won't cost you a cent even to just try it out on your knitting website.
#2: High Quality Trusted Product
Knitting For Profit is an original high quality knitting eBook and is the most trusted and comprehensive knitting business book on the net. Knitting for profit has been successfully sold online since 2009 and we have many happy and satisfied clients. Your customers will highly appreciate it when you refer them to this unique and valuable crochet resource and you can feel good about the money you make with this fully legitimate top quality home based knitting affiliate business!
#3: High Conversion Rates
Knitting For Profit has high conversions due to the professionally written sales copy which means more successful sales commissions for you.
#4: Very low refund rate
The Knitting For Profit eBook has a very low refund rate (less than 2%) because the information in the book is real, it works and most importantly is specific to knitters.
#5: The Most Trusted Affiliate Management Company
We use Clickbank as our credit card processor and affiliate management company which ensures you always get a ccurate and reliable tracking of all the visitors you send us and the affiliate sales you generate. ClickBank is the Internet's premier retailer for digitally delivered products and provides a highly secure, scalable, and fraud resistant environment for selling eBooks. So you can rest assured that your commissions will always be paid fairly and on time.
#6: We Provide You With All The Banner Ads
We provide you with a range of professionally designed banner ads, text ads and book cover graphics that you simply "copy and paste" into your knitting website or newsletter, and you can start making sales immediately.
How Do I Promote Knitting For Profit As An Affiliate?
There are many ways to market the Knitting For Profit ebook to earn substantial commissions: You can write reviews and post as articles on your knitting or crochet websites, you can place highly visible links or banners on your knitting website, you can do paid advertising eg with Google or facebook or ezines, and of course, if you have a work at home mom, knitting or crochet email list or newsletter or social media presence eg facebook or Pinterest, you can contact your list/likes and recommend Knitting For Profit to your subscribers as an affiliate.
Ready To Start Promoting?
Its quick and easy to get started, just click on the link below to access our FREE knitting affiliate resources.
This page includes all our professionally designed banner ads, text ads and book cover graphics. On this page you will also find useful content and easy to understand instructions on how to set up your knitting blogs and crochet websites with the banner ads and affiliate codes etc.
Simply click below to take the next step to earning money off your knitting website!
Click here to access the Knitting Affiliate Resource page.
If you have any questions on our Knitting For Profit affiliate program just click here to contact us.