New knitting book reveals:
"The Secrets of Knitting For Profit"
Your step-by-step guide to making money from knitting and crochet.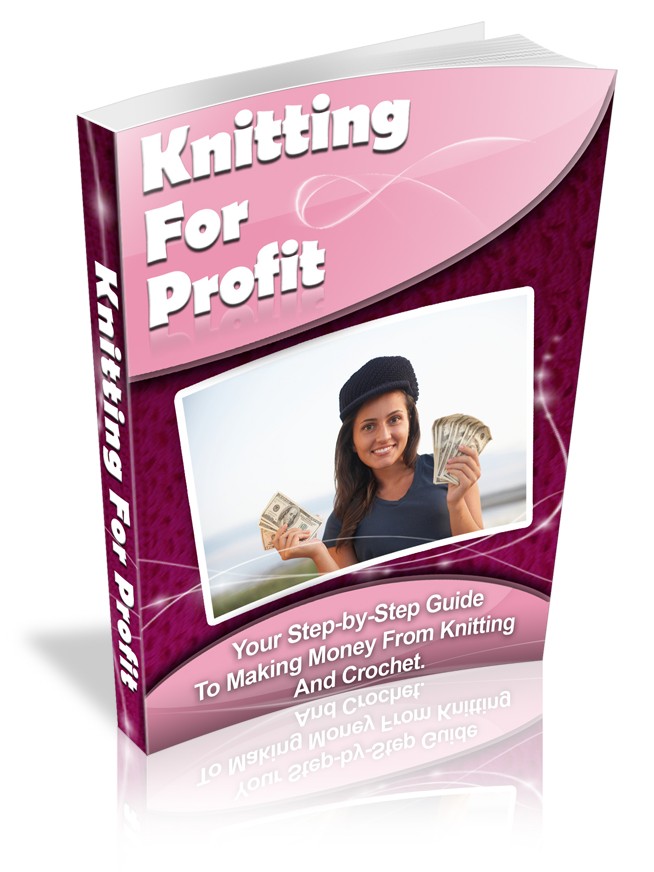 If you would like to learn how to earn cash from your knitting so you can work from home… or leave your job… or even just earn some extra part-time income for your family… and start with virtually no money and no business experience, then this book is for you!
I've developed six sure-fire strategies for making money from knitting based on the little-known secrets of successful knitterpreneurs, already living their dream of earning money from knitting.
I've packed in details of absolutely everything you need to know to start "Knitting For Profit", including:
The exact steps you need to take.
Over 150 links to essential resources you can use.
Names and contact details of people and organisations that can help you.
Detailed examples and specific ideas that could make you thousands of dollars from your knitting.
My six "Knitting For Profit" strategies, used by successful knitters and crocheters to make enough money to throw in their jobs & work from home full time or even build complete $ multimillion knitting empires.
How to get top prices for your knitting Interviews with real women who have achieved their dream and are successfully earning money from knitting. These stories will inspire you and give you the confidence to know that you can do it too.
How to slash your yarn costs in half -the secrets to buying yarn wholesale, with direct links to wholesalers around the world.
A FREEBIES LIST – you can easily start on a shoestring budget with these comprehensive listings of amazing FREE online resources! You'll discover free knitting patterns, free crochet patterns, free software, free website builders, free advertising, free advice, free mentoring, free blogging, free shopping carts, free business cards and so much more!
The critical elements of pricing – how much should you charge and how to get people to pay you more.
Direct links to websites listing paid work for knitters from around the world.
The top 10 best online craft sites and how to use them to your advantage.
And that's just a tiny fraction of what you'll learn in this information-packed guidebook to making money from knitting.
This book comes with a 60 day money-back guarantee, and it's easy to order. Best of all, because it's available as an instantly downloadable e-book, you can get started within the next 10 minutes. To get more information or to place your order, simply click the link below.
If you love knitting and crochet and have ever wished you could make money from it then this book is essential reading.