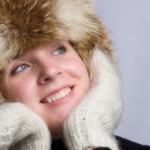 If you want to make money knitting, my golden rule is to find a niche. No matter which of my Five Knitting For Profit strategies you choose to follow, in order to really make a profit from your knitting, you need to be a bit different, stand out from the crowd and fulfill a need in the marketplace.
So here are five more Money Making Niche Knitting Ideas (there's a theme here if you're looking…)
1. Knitted Wedding gifts – have a range of knitted pieces that would make a thoughtful and appreciated gift for a couple starting their married life. For example, 'His' and 'Hers' or names/initials knitted into scarves, hats, jumpers, pillows or blankets. Or his and hers versions of the same knitted item, like beanies knitted in complimentary or matching colours. You could also provide useful knitted household items like potholders or washclothes in silver or white.
Use wedding bell or heart motifs. Once you specialise like this, it is easier to find ways to sell your knitted products too. You can contact local wedding or bridal shops, go to bridal shows, find companies that specialise in wedding gifts or kitchen tea parties (there are lots online) and list your knitted products with them, or see if local gift shops would like to stock your knitted pieces. You can also sell your specialty range through one of the may online craft malls. It's amazing how word spreads when you have something unique to offer!
2. Christmas Ornaments and Stockings – I know of knitters who have great success and more back-orders than they can handle for these knitted or crocheted products. You can either sell the finished items, or you could sell the patterns. It's very seasonal but it's a wonderful time of year to be selling knitting! For pattern ideas look up Christmas knitting patterns in your search engine.
3. Mother's Day gifts – although it doesn't have to be mothers day to give your mum something nice, if you have a themed range of 'gifts for mothers' it is easier for your customers to find you…usually fathers and children! There is a lovely little 'treasure locket' pattern on purlbee.com, and so many other lovely, thoughtful hand knitted things that you can create with mothers in mind.
If you chose this niche, I would label each knitted item with a tag that said 'special gifts for mum' or something similar, to really show customers that's who your products are designed for. And whether you choose to sell online or off, people will know right away that a gift purchased from you is a gift that is meant for their mum, and that she will enjoy receiving it.
4. Flag designs – people love to celebrate their heritage no matter what time of year it is, but on national days people want to show it even more! You can put flag designs and colours on almost any knitted product, from blankets, shawls, scarves and hats, to booties and baby wear, to potholders and washcloths. You then have a specialised range of knitted products that really appeal to people who love their country and are proud to display it.
5. Costumes for pets or children – unique and funny designs are the key here, because if you create something different, word will spread quickly and you'll enjoy lots of sales! A couple of examples are the very successful baby viking hats from bellaknitting.com and the 'Kritter Knits' at ByMelissa.net. Themed costumes for Christmas, Easter, Halloween or Thanksgiving are always popular too, and a great way to get your knitted products and name known.
So there you are, five more niche knitting for profit ideas that are already making money for knitters around the world! If you have any more suggestions I'd love to hear them, so please leave a comment!