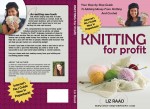 Just thought you might be interested in the progress of my publishing journey for the Knitting For Profit book.
If you are interested in publishing a book yourself, especially for those of you looking at the pattern strategy, the fastest and easiest way to get one up and running that I have found is on lulu.com. As soon as you upload the file for your content, add a cover and list it in the marketplace, you can order a copy and have it delivered within the week! I also like the fact that they print to order, so I didn't have to get thousands of copies up front and pay huge amounts for them.
I was very excited a couple of weeks ago when I submitted the final version and cover artwork for my book, got the book listed and ordered myself the very first copy. They were amazingly fast on delivery (seeing as I am in Australia and they are based in the US) and I was thrilled to get hold of the first paperback copy of my book until….
I noticed the cover artwork hadn't printed as clearly or professionally as I had expected and in the conversion of the file from a word document to a pdf, the pages were out of sync, so I had pages with nothing on them and text boxes spread across two pages… bother! (or words to that effect)
So now I am in a process of revision and trying to get a response from lulu about why the cover ended up the way it did – so despite being relatively fast and easy, the self-publishing process did have it's pitfalls. I am also going to ask them how much it is to get one of their people to finish off the files so the finished product comes up looking really great.
So I'll keep you posted. I still think it's a great way to get your knitting or crochet book out into the marketplace really fast, and also an important step in your market research – rather than spending thousands on publishing books you may never sell, get one set up on lulu today and see how it goes – it will cost you nothing to do, and you can instantly become a published author which looks great on a bio or on your blog!