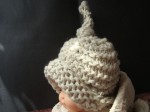 Emilda is a knitting designer with a difference, and you can't help but be inspired by her positivity, generosity and joy of knitting! She is part of a growing group of designers who create with "knitterpreneurs" in mind, with fast easy to knit designs that she is happy for people to make a profit from knitting.
Find out why her products sell so well, and how this self-confessed technophobic now makes most of her sales online!
How it all started…
Emilda grew up in a small country village at a time when skills like knitting, crocheting, quilting and sewing were part of everyday life. "Women could do everything, and it was all of necessity, not a leisure activity as it is today. As a young girl, the clickety-click music of my mothers knitting needles, and the rhythmic movement of her hands dancing above her knitting needles was a mesmerizing and almost hypnotic nightly occurrence in our kitchen as we sat around the big wood stove by the light of a kerosene lamp!"
"We had no access to patterns back then, so I became adept at finding a way to make what was in my mind, and bring it into reality. I have always sewn without patterns, and knitted and crocheted without patterns."
From knitting by lamp-light to online retailer!
Over the following years, Emilda built up a wide and wonderful range of knitted items, which sold well at countless craft shows and markets. But she wanted to go the next step, and start selling online.
The only problem was that she believed she didn't have the knowledge or skills to be able to run her own website. "At my age, I probably just have a limited expectation that it is just too complicated for me to comprehend" – but this wasn't going to stop her!
She decided to list her knitted pieces on a couple of crafting sites, but was disappointed with the results. Then one day she happened to find a discussion on a blog about Etsy.com, and after reading their positive comments she decided to find out more.
"When I saw how little the costs were, and realised that they do all the maintenance of the site, I was determined to join up!
"I had sales the first day I placed listings on the site! After that, I shifted my compulsive urges to listing, and making new items, and listing and listing and listing. My first sales were for wooden buttons which I make from tree branches, and in the beginning that was the main attraction to my site" she says.
Why are her products so popular?
Emilda started her Etsy.com store in November 2008, and in only 7 months she has made over 400 sales!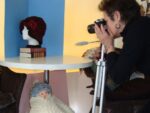 "When I joined Etsy, I was only selling the finished products. But I received emails from people who had visited my shop, asking if they were they my own designs, and if they could they buy the patterns. And so, being entrepreneurial in spirit, I saw that there was a need for that type of thing. I began the task of having a clipboard handy, and writing the instructions as I was knitting.
I think what makes my items unique, is the mere fact that I have not followed a pattern. When I was selling at craft shows, which was the main outlet for my creative endeavors for a great deal of the past 30 or so years, people would buy the finished hats, scarves, ornaments, and they were attracted to my booth because my items didn't look like others.
Now my pattern range consists of over 100 hats, cowls, neck warmers, scarves, crocheted jewelry, knitted fashion accessories, mittens, shrugs and shawls. And I find that people keep coming back for more because once they have used one of my patterns, they realize how simple and easy they are. My biggest focus is on how to make an item with the least possible increases, decreases, or complicated patterns – without losing the cuteness factor!
And my tutorials include pictures of the progression, which is very helpful. When you have the visuals, it really leaves nothing to figure out.. you read the directions, and look at the picture, you pretty much know what is being explained!"
And you don't mind people using your patterns to "knit for profit"?
"I want people to love knitting and crochet as much as I do, so my patterns aim to be simple, easy, quick, and made for people to be able to make a profit from them."
I have lots of people coming back for more patterns, simply because they are free to sell and profit from the finished items they make. And I love that they will be giving birth to something that was in my imagination, because I just don't have the time anymore to mass produce. My mind is full of patterns, so I think my purpose is to supply the whole world with wonderful patterns!"
Emilda is now retired, but loves that her hobby provides extra income and keeps her busy. "The best part of making money from knitting is being able to work whenever I want to. If I have a sleepless night, I just get up and let the creative juices flow – for me, the hardest part is actually shutting my imagination off!"
A great tip for using Etsy…
I wish I had known that I could have started on Etsy with just one item. I thought I had to have a store full, so I was pressuring myself to hurry up and make lots of things, and then go through the photography and listings all at once. It is actually better to list slowly, because it keeps you at the top of Etsy's search engines.
And her advice for someone who wants to make money knitting?
"Make one or two things you love to make, then open a store on Etsy!
You know, I don't have any shares in Etsy… but as far as I am concerned its a great deal. Anyone, anywhere can try out their products on a well maintained, and well managed site…. and all for just 20 cents, because that's all it costs to list an item. There are no registration fees, no start up costs, just set yourself up, and list an item! What have you got to lose?"
If you are interested in starting an Etsy store, you can click here to get started (and I don't own shares in Etsy either, but maybe I should!!)
And have a look at the new Knitting Patterns pages right here on the Knitting For Profit Blog to see some of Emilda's beautiful designs that you can buy through her Etsy store at www.hectanooga.etsy.com