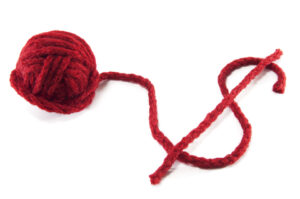 Here are the answers to the 5 most common questions I get about Knitting For Profit. If you have another to add to the list, feel free to leave a comment and I'll do my best to include the answers in another post, perhaps titled "A whole lot more questions about Knitting and Crocheting for Profit!"
Do I need lots of money to start up a knitting or crochet business?
The great news for knitters is…NO! Having a big idea and goal is great, but the best way to start a business is small, and you really don't need much money to begin with. In fact, most of the successful knitters I have found started out with very little money – many were work-at-home mothers or students.
Knitting Business Start-up Tip…
One of the secrets to business success is to test your markets, so you can provide what the market really wants, rather than what you think they want. To do this, you don't need to knit or crochet a huge range all at once. Start out with one or two knitted products at a time, see how well they sell, and focus on the ones that do well. There's an old rule that 80% of your profits will come from 20% of your products, so that's what you need to try and find. The actual costs of starting up a business vary around the world, but these are the main things you will need to allow for in your start-up budget:
1. Your knitting supplies and yarn
2. Some promotional material like business cards and brochures
3. Business registration or license
4. Insurance
5. Some advertising like a website, craft shows, local paper or yellow pages etc.
Do I need to have business experience to start knitting or crocheting for profit?
If you read the knitting success stories here on this blog and in my Knitting for Profit book, you'll see that most of these knitter women had absolutely no business experience when they first started out. And when you think about it, every successful business person had to start somewhere. Most of them admit they just jumped in and learned things as they went along! If you would like help from the start, there are lots of government and not-for-profit organisations that offer start-up support and advice. My Knitting for Profit book has a step-by-step guide to starting a knitting business, and links to these resources in many countries around the world. And I think it's really interesting that the most common piece of advice that successful business people give to newbies is not about complex business strategies or start-up budgets, it is simply…. 'Just do it!'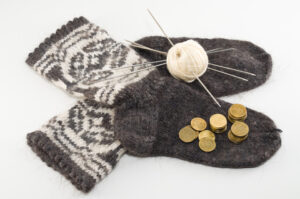 Knitting for $$$ – Can it really be done?
Absolutely!! In my extensive worldwide research I have found many examples of successful knitters making money from their passion. One of my main reasons for writing this blog and my book 'Knitting for Profit' was to share these amazing and inspirational stories of knitter women who have achieved their dream of making money from knitting or crochet. You can read some of their stories here on this blog. When you do, you will realise that they started out just like you, some with no money, some with no business experience, some with small children and mortgages. Anything is possible, especially when you have the right information and resources to start with.
What if I'm not a good salesperson, or I don't think I would enjoy trying to sell my knitting?
Selling your own knitted products is just as achievable as knitting or crocheting your products, it may be new to you and feel a bit strange at first, but once you learn the three simple rules of selling (see my blog article 'Three Essential Rules For Selling Your Knitting'), you'll see that sales is much more about genuinely helping your customers choose what's best for them, rather than pushing them into something they don't really want. Besides, there are many ways to sell your knitted products without ever having to talk to the buyer, and if you make a great product that appeals to a niche market then you won't have to sell it, because it will sell itself!
What do I do first?
The very first steps for starting your knitting business are actually the easiest and most exciting ones! This is the part where you get to shop around for ideas and inspiration, decide on your path and begin your journey.
Step 1: Research your market and assess your knitting skills and desires. One of my goals in writing the Knitting for Profit book was to make this process easy for you. I have uncovered and developed five main strategies that you can use to make money from knitting and crochet (in the Knitting For Profit book I go into great detail about these five strategies). You need to choose one of these paths based on your knitting skills and what you are attracted to.
Step 2: Find your niche market and decide how you will make your knitted products stand out. This is absolutely essential for your success.
Step 3: Write a business plan. This will be your map to guide you on your 'knitterpreneur' journey. It will help you decide who your customers will be, what knitted products you will sell, where and how you will sell them, and what knitter resources you will need to start out. There are lots of standard business plan templates available for free online (have a look on the US small business site, it has a fantastic range of resources for new businesses at www.sba.gov), or you can use the specialised Knitting Business Plan Template that comes as an extra bonus with the Knitting For Profit book.
At the risk of sounding repetitive… 🙂 if you would like to know more about these steps and how you can easily achieve them, read more about my new Knitting for Profit book at www.KnittingForProfit.com