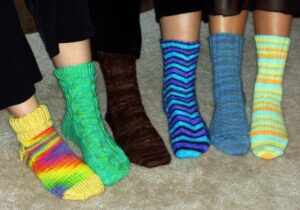 Next time you think your knitting pattern is too complicated or you just want to set a new knitting goal for yourself, this list of world record knitting jobs should give you something to think about. If nothing else, they are fun and interesting knitting facts. Are you going to be the next knitter to break or set a new world knitting record? After you have looked at these, you may want to think twice about it!
BIG KNITTING JOBS
She's no Pirate but even in Penzance in Cornwall, nobody is going to be able to fight their way past the super sized set of knitting needles belonging to Julia Hopson. Her knitting needles were three and one-half meters long (or over eleven feet) and six and one half centimeters (or two and one half inches) in diameter. With these monstrous knitting needles, she managed to knit a ten stitch, ten row tension square using stockingette stitches.
Talk about working your fingers to the bone!…

According to Wikipedia, in 2004 a German man managed to finger knit an amazing strand using the finger method often used to teach small children and to help other people who may have difficulty with knitting needles. He ended up fingering enough yarn to knit a strand that was 4,321 meters (14,043 feet) long. I was unable to verify this world record anywhere else but it is still pretty amazing.
Faster than a speeding … knitting job?

Miriam Tegels of the Netherlands appears to have the fastest knitting needles in the West … or anywhere else for that matter. For this world record knitting job, the idea was to stitch as many stitches as possible in a three-minute time period. Her closest competitor came in with a very impressive 183 stitches. Still, that was an amazing seventy-four stitches too slow. Her three minute world record knitting job resulted in an incredible 257 stitches knitted within that three minute period.
A Run in her Stockings … Scarf maybe?

Suzie Hewer managed to tackle a knitting job that saw her create a scarf that was one meter and 20 centimeters (almost forty-seven inches) long. Now that in itself is not such an amazing thing but add to that the fact that she was making the scarf for charity … and it is still really not such an incredible feat. However, when you realize that she managed to tackle this knitting job while running a marathon … at the same time … then it becomes a bit more amazing. There is no word on how long it took her to run the marathon though … and no word whether or not she suffered any runs in her scarf along the way.
After having read about some of these world record knitting jobs, maybe your next task will not look so bleak no matter how difficult the knitting pattern may make it seem. If you would like to attempt to break any of these or any other world record knitting jobs, you are going to have to contact the Guinness book of records because that is one knitting job that we cannot help you with here.