Many knitters never bother to learn the differences between yarn types and weights. For example, they never learn what the difference is between double knitting wool vs 4 ply yarn. Learning what these terms mean and how they differ can make all the difference to your knitting abilities. By knowing the different yarn weights and what terms like "4 ply" mean, you can take your knitting to a whole new level, first by picking out your own yarn rather than the yarn a pattern specifies, and then by potentially designing your own patterns! So, what is the difference between double knit wool vs 4 ply yarn? Let's find out.
Double Knitting Wool
The term double knit, or DK, refers to the weight of the wool. Double knitting wool is somewhere between sports weight and worsted weight yarn. It is the perfect size to use for double kitting, which is why it was given this name.
It is important to have a standard system used for determining the size and thickness of every yarn available, so that knitters can easily replace one yarn with another while knitting from a pattern or sharing the materials needed to create their latest knit project. Using yarn weight to determine the general size of yarn is a fairly accurate system, and one that allows knitters to find a fiber they love to use and use it often. In this way, you can choose a yarn for your next project with confidence that you've picked the right size for your pattern.
There are many different yarn weights, which include:
• Super fine yarn
• Fine yarn
• Light weight yarn
• Medium weight yarn
• Bulky weight yarn
• And super bulky weight yarn
Double knitting yarn is somewhere in the light to medium weight yarn range, and perfect for summer garments and light weight fabrics.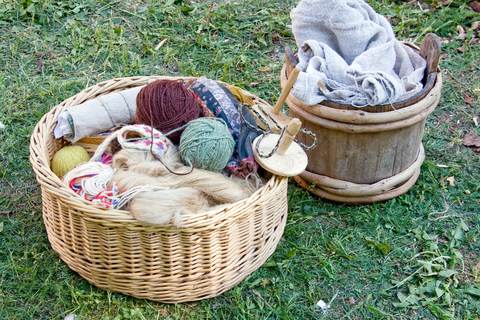 4 Ply Yarn
The ply of a yarn refers to how many strands of yarn are spun together to make the yarn. This is a great way to determine how fluffy a yarn may be, as well as how durable it should be. The more strands of thread, the smoother, fuller, and more durable a yarn should be. The fewer strands of thread, the fluffier the yarn will be, but it also may not be as strong as you need.
This system used to be the best way for knitters to determine the size or thickness of a yarn, and was the only thing to go on when choosing the best yarn for a pattern. However, with so many fiber options available today, this is no longer accurate since some fiber strands are much thinner than others.
When you see a yarn that claims to be 4 ply, this just means that there were 4 strands of yarn spun together to make the yarn. Typically, 4 ply yarn is equivalent to medium weight yarn, which means that it is possible for double knit yarn to be 4 ply as well. This is not always the case, though, since fibers with thicker thread will create a bulkier yarn.
The important thing to know about ply, is that it is typically not as important of a factor as the general quality and durability of a yarn. While having more plies in a strand of yarn should make it smoother and stronger, this is not always the case with poorly constructed yarn or yarn made from weak fibers.
So, while knowing whether a yarn is 4 ply or 2 ply may be helpful when determining the weight and feel of a yarn, it is not reliable when used alone. The important thing is to look at both the weight and the ply of a yarn to determine whether it is a good yarn for your next project. Feel a few different skeins in the store. Check out the gauge swatches provided, and spend some time getting to know the different brands before you spend a lot of money on a yarn that may not be right for your needs. Now that you know what the difference is between double knitting wool vs 4 ply yarn, you can pick out your next yarn with less confusion and more confidence.