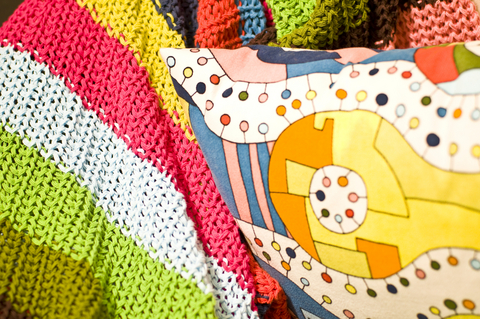 Many knitters have a strong preference to either in-the-round knitting or flat knitting. If you prefer to only use patterns using flat knitting, it can really restrict the projects you can choose from. For example, most hats and socks are knit in the round, which means that you won't get the opportunity to make these items unless you knit in the round. Luckily, most patterns can be converted from in-the-round knitting to flat knitting. You just need to follow a few simple guidelines and you'll be able to do this for almost any project you'd like.
Patterns That Shouldn't Be Converted to Flat Knitting
While most patterns can be converted to flat knitting by making a few small changes, there are a few times that this is not the best idea, and can really mess up your project.
Faire Isle patterns are very hard to convert to flat knitting, and it really shouldn't be done for a couple of reasons. First, faire isle patterns are supposed to be knit in tubes so that you don't have so many yarn ends getting tangled. With so many color changes and yarn ends in your work, converting this pattern to flat knitting can really make things difficult. Another reason to stick with knitting Fair Isle patterns in the round is so that you can avoid having to purl while stranding.
Knitting lace is another time that it is best to stick with the original pattern and not convert. While patterns that have a row of only knits or purls every other row are okay to convert to flat knitting, it can be extremely difficult to adjust a pattern that has specific stitch instructions for every single row.
Guidelines for Converting to Flat Knitting
By following these few simple guidelines, you can convert most patterns to flat knitting patterns if you wish. These guidelines will keep you from making a big mistake and frogging a project, or discarding it, when you're almost done.
The first thing you must do when converting a pattern from in-the-round to flat knitting is decide where you want your seam to fall on the finished garment. This can be tricky since the designer meant to have no seam on the finished piece. You want to find a place that won't be obvious such as the sides of a sweater or the back of a hat.
Another important step you shouldn't forget when converting to flat knitting is to remember to add selvage stitches to both ends of your row. This gives you room for a seam so that the finished garment remains the right size. Otherwise, you'll find that your garment is too snug because the original pattern didn't leave room for a seam.
One of the biggest things knitters overlook when they convert a pattern to flat knitting is to include a wrong side. When you knit in-the-round, every row is a right side row. When you convert the pattern to a flat knitting pattern, you have to remember to create wrong side rows. This means that every even-numbered row needs to be knit opposite of the written pattern. For example, if you are doing the stockinette stitch in the round, you would knit every stitch in every row, but if you are knitting it flat, every other row needs to be a purl stitch row instead. So when you convert a pattern to a flat knitting pattern, remember to reverse the instructions for every even-numbered row so that you are knitting the purls and purling the knits.
Converting patterns to meet your preferences can open up a lot more knitting opportunities for you. While it is best to learn to knit flat and circular, many knitters struggle with one or the other. Instead of sticking to scarves and blankets, you can simply learn to convert almost any pattern to meet your needs. If you prefer to knit flat, you will no longer be restricted to only patterns designed for flat knitting. As long as you follow these simple guidelines for converting your pattern from in-the-round knitting to flat knitting, you'll be able to knit anything.