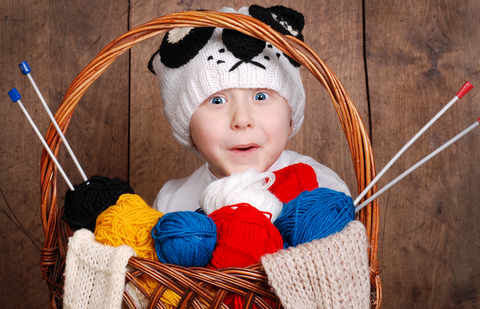 When you first decide to learn to knit, the knitting supplies aisle can be a daunting place. There are so many options that it can be overwhelming deciding what you really need, and what is just a fun extra designed for knitters that like the latest and greatest contraptions. While those high-end stitch markers, blocking boards, fancy needle kits, and other supplies are nice for people that knit all the time; they are not essential for starting out in a new craft. Read on to learn about the knitting supplies you actually need before you finish your first project.
Knitting Needles and Yarn
Knitting needles and yarn are the most basic, and most obvious, supplies you need for your first project. When choosing your knitting needles, you can either opt for a needle kit that has all of the basic sizes, or if you're trying to save money, knitting needles can be purchased at flea markets and garage sales at great deals. If you're looking to start the knitting hobby on a budget, this is a great way to collect your needles since there is no real reason for them to be brand new. If you choose to buy your needle sets one at a time, it is a good idea to keep a chart where you can check off each needle size as you acquire it so you don't end up with too many sets of the same size.
If you think you may want to knit in the round, which is essential for making hats, sweaters, socks, and other fun knit goods, you'll also want to pick up double pointed needles or circular needles so that you have them when you decide to learn.
In order to choose the yarn for your first knitting project, it is best to decide what you want to make and find a pattern. Most patterns will suggest a yarn type for you, which is essential when you are first starting out and may not have much knowledge of the different yarns. Yarn comes in many different weights, from sock weight up to super bulky weight, and each weight has it's own look and knits up a little differently. A big trend in newer knitters is to choose bulkier yarns and bigger needles when starting out. This allows you to see your stitches better and you can finish your first projects much faster. If this sounds appealing to you, look for a pattern that calls for bulky or super bulky yarns and large needles.
More Essential Knitting Supplies
Besides yarn and knitting needles, there are very few essential knitting supplies that you need when you first start out. You'll need a pair of sharp scissors, so that you can cut your yarn and trim frayed edges. You'll also want to buy a measuring tape or another form of measurement. This will help you check your gauge and make sure that items that are supposed to be sized come out correctly. Make sure you keep it with your needles, so that you aren't searching for it every time you need it, otherwise it doesn't do you much good.
Storage for Knitting Supplies
In addition to collecting your knitting supplies, it's a good idea to figure out how you are going to store it all. This varies greatly depending on the knitter, how large their yarn stash is, how often they knit, and other variables. When you are first starting out, you really just need something that can hold a few skeins of yarn, some knitting needles, and your other supplies. There are many simple storage options, such as:
• Storage baskets
• Knitting project bags
• Shelves
• Storage drawers
• Needle pouches
There are relatively few supplies needed for knitting. Most of what you can buy at the craft stores is the fun extras that aren't necessary. If you want to learn to knit, but don't want to buy a lot of knitting supplies, remember to keep it simple and only buy what you really need to finish your projects. When you first start out, you shouldn't need more than a few skeins of yarn, knitting needles, scissors, and possibly a measuring tape. Anything more is just extra.